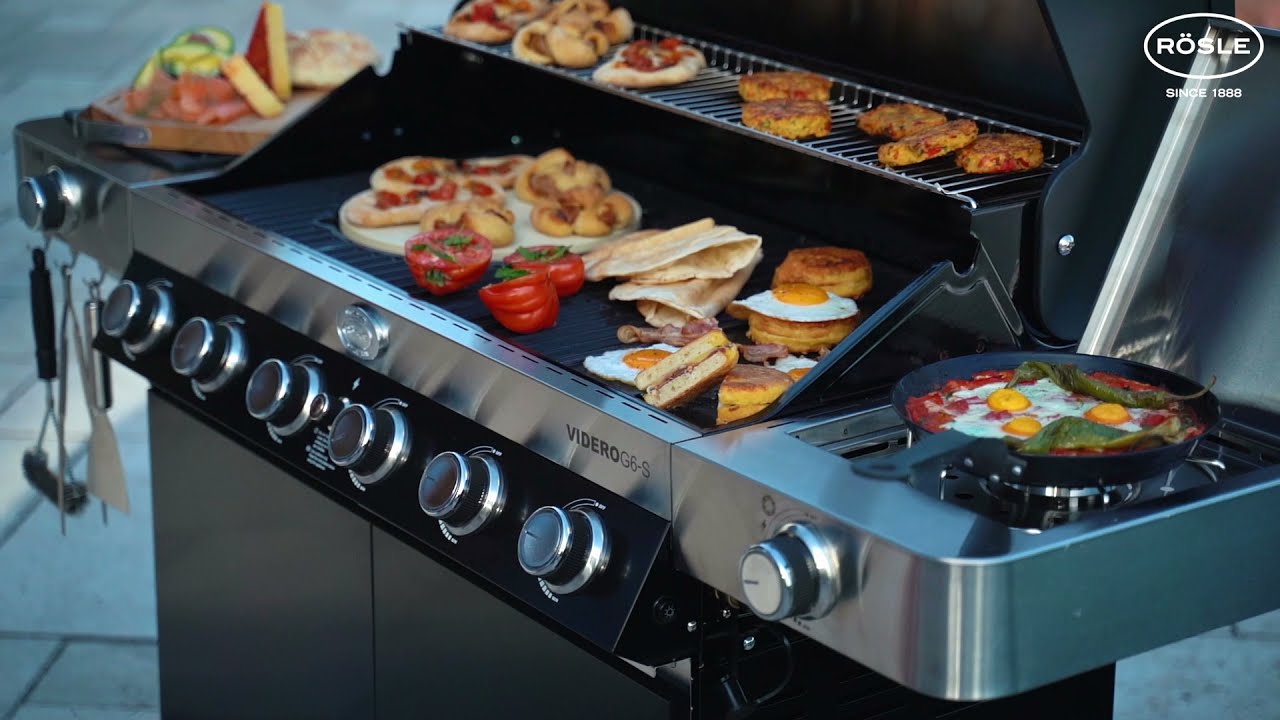 Gas Grill BBQ-Station VIDERO G6-S Vario+ black 50 mbar
Art. 25527
AWARDS
Product information "Gas Grill BBQ-Station VIDERO G6-S Vario+ black 50 mbar"
All product details at a glance:
Gas grill with 6 main burners made from stainless steel (each 3.5 kW/11,942 BTU)
Main barbecue area: 92.5 × 45 cm/36.4 x 17.7 in., warming rack: 92.5 × 16 cm/36.4 x 6.3 in.
Inclucing VARIO+ barbecue system with holder
Heavy-duty grill grates made of enamelled cast iron give you classic "barbecue stripes"
VARIO grill insert can be used on both sides
Primezone in the side table (3.5 kW/11,942 BTU)
With side burner (3.0 kW/10,236 BTU)
Side tables fold on both sides
Heat distributor and grease catcher made from stainless steel
Illuminated control knops (two-coloured)
Lid with glass inset allows practical viewing of the cooking space
Large lid thermometer (display in °C and °F)
Inclusive cutlery holder
Case made from powder coated steel
Gas pressure regulator with integrated hose breakage protection
Storage area for gas tanks up to 11 kg/24.3 lbs DE
Art.

25527

EAN

4004293255273

Weight

76.2 kg

Height

660 mm

width

650 mm

Length

1100 mm

Weight unpacked:

63.1 kg

Length unpacked:

157 cm

Width unpacked:

58 cm

Height unpacked:

118 cm

Materials:

Stahl

, Stainless steel 18-0

Colors:

black

Surfaces:

matt

, powder coating

Food contact:

Yes

Collection:

Videro

Working height:

88 cm

Material grill grate:

Gusseisen emailliert

Lid thermometer:

Yes

Lid hinge:

Yes

Main burner:

6 Stk

Battery type:

AA - Alkaline-Mignon

Number of batteries:

5 Stk

Main grill surface:

92,50 x 45

Heat retaining surface:

92,50 x 16

Power main burner:

21 kW

Power side burner:

3 kW

Burner capacity (total):

27.5 kW

Prime zone power:

3.5 kW
GRILL AND CHILL
When there are no limits to culinary delights and neither space nor time stand in the way of the BBQ experience, the desire for crunchy vegetables, juicy meat or fresh fish is put into practice.
With passion, love and the experience value of five generations, the GRILL AND CHILL philosophy lives in our appliances, in all accessory articles, with which grilling with friends or family becomes a shared experience.
Spending time together. Barbecueing together and enjoying life. And at the end of the evening, chilling together, happy and full, satisfied and proud. Doesn't just sound good. It is.
The versatile ones!
The gas grill BBQ stations from RÖSLE stand confidently. Pure design with all the refinements that high-performance gas grills have to offer:
The fast ignition and powerful energy of the burners, the wide temperature range and even heat development paired with clean combustion and plenty of convenience - from the back-friendly working height to the side, foldable storage shelves and the spacious base cabinet with plenty of room for accessories.
Why RÖSLE?
Anyone who is passionate about cooking and grilling knows how to appreciate the best quality. Because good ingredients, good utensils, desire and a good mood make the greatest delicacies succeed.
The RÖSLE range has everything you need for fresh and healthy cooking and safe and precise preparation.
What RÖSLE stands for sounds simple, yet there is a lot behind it: Making everyday products always a little bit better. We don't just look at the tool, but also at the person who should enjoy working with it.
This is how you grill with RÖSLE!
Full power all along the line.
Equipped with 6 powerful main burners made of stainless steel, the VIDERO G6-S already offers plenty of space for all kinds of grilling requirements. In addition, there are two more burners: one in the right side table as a side burner and another as an infrared prime zone in the left side table.
The extra-hot grill surface provides up to 800 °C for the perfect finish on steaks. A wok, the Dutch Oven for braised dishes or a pizza stone can be easily inserted via the integrated Vario+ grill grate system.
The large glass pane in the lid makes it possible to keep a permanent eye on the food being grilled or even the crispy grilled chicken from the matching rotating spit - without losing heat by opening the lid.
Other features at a glance
Storage space in the base cabinet:
For gas cylinders up to 11 kg and accessories.
Drip tray
For dripping fat and cooking liquids. This can be removed for cleaning on the front of the appliance.
Hook bar included
For hanging barbecue accessories such as barbecue tongs or BBQ turner, so that they are always right at hand.
Large lid thermometer
With easy-to-read temperature display in °C and °F.
Hose rupture protection
Gas pressure regulator with integrated hose rupture safety device
Dimensions
Large grilling surface:
70 x 45 cm = 3.150 cm²
Dimensions:
(L x B x H) 138 x 57 x117,5 cm
Dimensions (side tables folded down):
(L x B x H) 102,5 x 57 x 117,5 cm