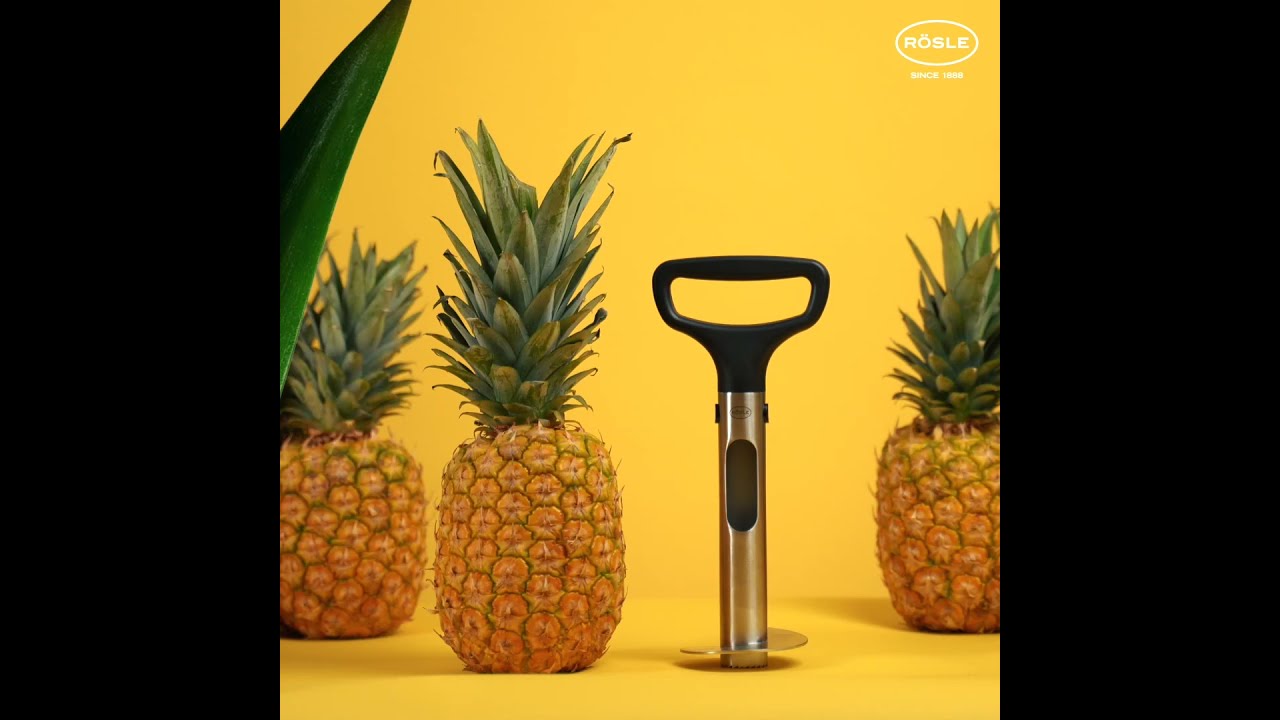 Product information "Pineapple Cutter Pro"
Preparing meals takes time every day. That's why RÖSLE kitchen gadgets always offer that special something and are even something for the eye.Pineapple is not just exotic, sweet and juicy - it's also healthy and packed with vitamins. No wonder that hardly anyone can resist the temptation. And with the pineapple slicer PRO, removing the flesh doesn't have to be a hassle anymore but can be done quickly, cleanly and super easily.
Evenly sized slices of pineapple
Easy cutting with little force required
For removing the flesh easily and effortlessly
With scale to help you determine how deep you need to cut
Slot for conveniently removing the core
Suitable for pineapples of typical sizes
The flesh can be removed in parts - so you don't have to eat the whole pineapple all at once.
Dishwasher-safe
Completely tailored to the wishes, the following features can be used:
The maximum amount of flesh from the pineapple is extracted. To do this, cut through the base of the pineapple and the stalk can be easily pushed out via the ejection slot.
Get the perfect dessert cup for a freshly prepared fruit salad or even a cocktail cup. In addition, the delicious fruit juice remains in the pineapple and can be drunk or used further. For this purpose, the scale serves as a guide to use the maximum incision depth without piercing the bottom.
Product number:

12849

EAN

4004293128492

Weight

0.375 kg

Height

90 mm

width

115 mm

Length

275 mm

Weight unpacked:

0.28 kg

Length unpacked:

27 cm

Width unpacked:

10.5 cm

Height unpacked:

8 cm

Materials:

ABS

, Stainless steel 18-10

Colors:

black

Surfaces:

matt

, smooth

Food contact:

Yes

Suitable for dishwasher:

Yes

Stove suitability:

No

Induction stove suitability:

No

Oven suitability:

No